PRINCETON, N.J., May 3, 2012 (via Photonics.com)— New flexible, low-cost solar cells, inspired by the microscopic folds found on the surface of a leaf, offer a 47 percent increase in electricity generation.
Engineers at Princeton University got the idea by observing basic leaf structure, which is designed to bend and control sunlight for maximum production of energy and nutrients. They simulated these qualities on the surface of a photovoltaic material, adding finely calibrated folds to channel the lightwaves and to increase the material's exposure to light.
"On a flat surface, the light either is absorbed, or it bounces back," said Yueh-Lin (Lynn) Loo, a professor of chemical and biological engineering at Princeton and principal investigator. "By adding these curves, we create a kind of waveguide. And that leads to a greater chance of the light's being absorbed."
---
Jong Bok Kim was part of a team of researchers who found that microscopic folds significantly boost the power of solar cells. (Image: Jong Bok Kim)
---
Current solar panels are made of costly and fragile silicon. So far, plastic panels have not been practical for widespread use because their energy production has been too low. However, scientists have been working to increase that efficiency with the goal of creating a cheap, flexible and tough source of solar power.
If a plastic panel's efficiency can be increased, the material could produce power from an array of surfaces — from inserts in window panels to overlays on exterior walls or backpacks.
Loo's team created the folded surface by curing a photographic adhesive layer with ultraviolet light. By controlling how fast different sections of the adhesive cured, the team introduced stresses in the material and generated ripples on the surface. The shallow ripples are called wrinkles, and the deeper ones are called folds. The researchers observed that a combination of folds and wrinkles produced the best results.
"Everything hinges on the fact that you can reproduce the wrinkles and folds," Loo said. "By controlling the stresses, we can introduce more or fewer wrinkles and folds."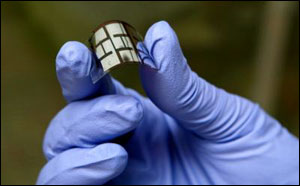 ---
Microscopic folds increase the power output and durability of solar cells. (Image: Frank Wojciechowski)
---
The researchers discovered that panels with folded surfaces retain their effectiveness after bending, whereas a standard plastic panel's energy production diminishes by 70 percent after being bent.
The team is hopeful that this new insight can be applied to synthetic devices.
"If you look at leaves very closely, they are not smooth; they have these sorts of structures," Loo said. "We'd like to mimic this geometric effect in synthetic man-made light-harvesting systems."
The research appeared online April 22 in Nature Photonics.
For more information, visit: www.princeton.edu